Over a week late but hey...
Had the second MoHud event in the wagon. It was raining as we got there, then it stopped just before the 1st group. Mid way through the first group we had to stop because of lightening. After a 1.5 hour delay we were back at it. Finished up the first group and then we got our first runs in. The course was still wet and I plowed a couple of cones. I tried to turn too fast and just kept going straight. Ah well.
The sun had come out and the day was starting to turn beautiful for the first group's second set when the sky turned BLACK and a wall of water dumped out of the sky. We scurried to shelter where we stayed for probably another hour. Then the sun came out with a vengeance! We finished up with the first group and the course was actually getting dry!
Time for the wagon's second chance. 3 of us in ST class were neck and neck! A 2 door Saturn, Civic DX Coupe and I were all within a couple of tenths.
My runs in the wagon were getting better and better with my last run hitting 40.050! I think with 1 more lap I could have broken into the 39's.
In the end of the day after cone violations I got 2nd! Not bad! I was psyched!
So far I like the low end power of the VR6. Is it front heavy? I don't really know but I feel it's controllable. I'd like to try a TDI or 1.8T wagon for comparison.
I am making a strut brace at work. I'm a machinist and I have access to a TIG welder so we'll see how it comes out. I'll post pics when I'm done.
Somewhat dry.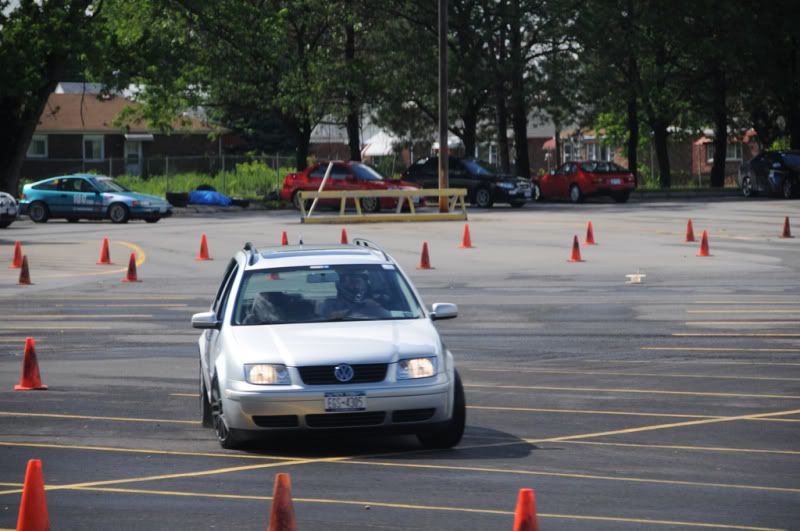 Wet 3 wheeling!