Over the winter I had gotten some money from my Mom for Xmas to get some tires for Autocross. I looked and looked and NOBODY had anything I could afford. I was planing on running these tires daily and on the track. One day I found a guy on Craigslist who was selling a set of 4 Bridgestone RE070's for $20 each! Great! I meet the guy and they have maybe 2/32" of tread left. I said I wasn't interested so he says "Fuck it! Take 'em for free!" Sweet! I have tires. But they were a bit too worn down to comfortably use for street.
Well, then I stumbled upon a deal on ROFLwagens.com I couldn't pass up. These wheels were EXACTLY what my Mom had given me! So WALAH! I have an autocross setup!
Get them mounted and balanced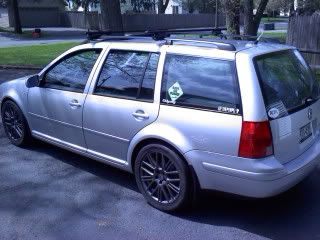 and put them on just a few days ago. First I noticed they spun while launching from a red light rather easily. So I take a few turns that I am familiar with and they SUCK!
Eh well. I'm gonna try the Simple Green and shrink wrap trick I read about on VWvortex and we'll see. Who knows.
The wheels look EVIL on the wagon though!